iScreen Urine Drug Test Dip Card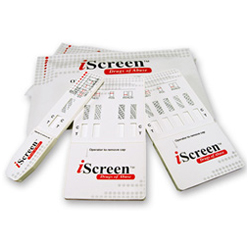 Urine Drug Tests: iScreen Urine Drug Test Kits
iScreen One Step Drug Test Kit are available in quantities of 25 urine drug tests per box. Each urine drug test kit comes with the urine specimen collection cup with the temperature strip affixed and a 2-part urine drug test results forms.
Detects 1 – 12 Drugs
Laboratory Accurate
On Board Adulteration Available
Photocopy Results
Procedure Card for Single and Multi Drug Screen test Cards
1. Remove iScreen test from foil pouch at room temperature. Take off the cap revealing the testing strips.
2. Immerse test vertically in the urine sample for at least 10 – 15 seconds. Do not allow the specimen to touch the device housing
.3. Read at 5 minutes.
4. Interpretation of Results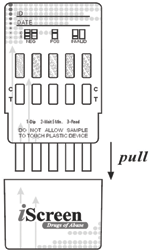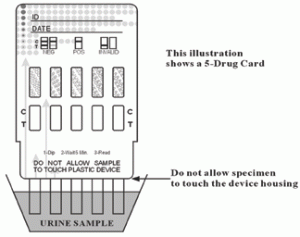 iScreen Single-Panel Drugs of Abuse Test Cards
IS1 AMPH DIP   Amphetamine (AMP) Single Dip Device
IS1 BARB DIP   Barbiturate (BAR) Single Dip Device
DBU-114   Buprenorphine (BUP) Single Dip Device
IS1 BENZO DIP   Benzodiazepines (BZO) Single Dip Device
IS1 COC DIP   Cocaine (COC) Single Dip Device
IS1 METH DIP   Methamphetamine (mAMP) Single Dip Device
IS1 METHADONE  Methadone (MTD) Single Dip Device
IS1 OPI300 DIP   Morphine (MOP) (300) Single Dip Device
DMD-114   Ecstasy (MDMA) Single Dip Device
IS1 OPI2000   Opiate (OPI) (2,000) Single Dip Device
IS1 OXY DIP   Oxycodone (OXY) Single Dip Device
DPC-114   Phencyclidine (PCP) Single Dip Device
DPP-114   Propoxyphene (PPX) Single Dip Device
IS1 TCA   Tricyclic Antidepressants (TCA) Single Dip Device
IS1 THC   DIP Marijuana (THC) Single Dip Device
iScreen Multipanel Drug Test Cards:
IS2 CT DIP   (2 Panel: COC, THC)
IS2 MT DIP   (2 Panel: mAMP, THC)
IS3 MCT DIP   (3 Panel: COC, mAMP, THC)
IS3 OCT DIP   (3 Panel: COC, OPI, THC)
IS4 A DIP   (4 Panel: AMP, COC, OPI, THC)
IS4 M DIP   (4 Panel: COC, mAMP, OPI, THC)
DOA-544   (4 Panel: BZO, COC, MTD, OPI)
IS5 MP DIP   (5 Panel: COC, THC, OPI, mAMP, PCP)
IS5 A DIP   (5 Panel: AMP, COC, OPI, PCP, THC)
IS5 M DIP   (5 Panel: AMP, COC, mAMP, OPI, THC)
IS5 MB DIP   (5 Panel: BZO, COC, mAMP, MOP, THC)
DOA-454   (5 Panel: AMP, COC, mAMP, MOP, THC)
DOA-754   (5 Panel: AMP, BZO, COC, OPI, THC)
DOA-1554   (5 Panel: COC, mAMP, MDMA, OPI, THC)
DOA-1364   (6 Panel: AMP, COC, mAMP, MDMA, OPI, THC)
DOA-164-551   (6 Panel: AMP, COC, mAMP, OPI, OXY, THC)
I-DOA-364-OBC   (6 Panel: AMP, BZO, COC, MTD, OPI, THC)
IS6 B DIP   (6 Panel: AMP, BZO, COC, mAMP, OPI, THC)
IS6 MAP DIP   (6 Panel: AMP, COC, mAMP, OPI, PCP, THC)
IS8 DIP   (8 Panel: AMP, BAR, BZO, COC, mAMP, OPI, PCP, THC)
DOA-184-271T-0B   (8 Panel: AMP300, COC150, mAMP500, MOP, OXY, PCP, PPX, THC)
IS9 DRUG SCREEN   (9 Panel: AMP, BAR, BZO, COC, mAMP, MTD, OPI, PCP, THC)
I-DOA-194-191   (9 Panel: AMP, BZO, COC, mAMP, MOP, MTD, OXY, PPX, THC)
IS10 PANEL – DI2   (10 Panel: AMP, BAR, BZO, COC, mAMP, MTD, OPI, PCP, TCA, THC)
DOA-2104   (10 Panel: AMP, BAR, BZO, COC, mAMP, MOP, MTD, PCP, TCA, THC)
DOA-1104-531 (10 Panel: AMP, BAR, BZO, BUP, COC, mAMP, MOP, MTD, OXY, THC)
DOA-3104    (10 Panel: AMP, BAR, BZO, COC, mAMP, MDMA, MTD, OPI, PCP, THC)
DOA-1124-011T-O   (12 Panel: AMP, BAR, BZO, COC, mAMP, MDMA, MTD, OPI, OXY, PCP, PPX, THC)
DOA-1124-081   (12 Panel: AMP, BAR, BZO, BUP, COC, mAMP, MDMA, MOP, MTD, OXY, PCP, THC)
Multipanel Drugs of Abuse Test Cards with SVT
DUD-154-201   (5 Panel + SVT: AMP, COC, mAMP, OPI, THC (CR, GL, NI, OX, PH, SG)
DUD-164-141   (6 Panel + SVT: AMP, BZO, COC, mAMP, OPI, THC (CR, GL, NI, OX, PH, SG)
DUD-1104-051   (10 Panel + SVT: AMP, BAR, BZO, COC, mAMP, MTD, OPI, PCP, TCA, THC (CR, GL, NI, OX, PH, SG)