iCassette Urine Drug Test Kit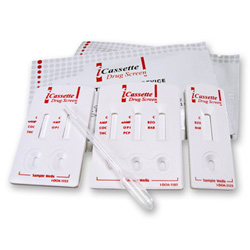 iCassette Drug Tests are available in boxes of 25 drug tests per box. Each drug test includes a specimen collection cup with temperature strip affixed and 2- part drug test results forms.
Laboratory
Accurate
Easy to Use
Fast Results
510K Cleared
Cost Effective
The iCassette drug test is a pipette style drug test that is used by transferring the specimen from the collection container to the device by the use of a liquid transfer pipette (eye dropper). The results are ready in 60 seconds and can be photo copied or recorded using our 2-part results form.

Kit Includes: Results Forms, Package Insert, Instructions and Specimen collection cup with temperature strip.
I-DAM-102 iCassette (Amphetamine (AMP) Single Test Cassette)
DBU-102 iCassette (Buprenorphine (BUP) Single Test Cassette)
I-DBZ-102 iCassette (Benzodiazepines (BZO) Single Test Cassette)
I-DCO-102 iCassette (Cocaine (COC) Single Test Cassette)
DMA-102 iCassette (Methamphetamine (mAMP) Single Test Cassette)
I-DMD-102 iCassette (Ecstasy (MDMA) Single Test Cassette)
DMO-102 iCassette (Morphine (MOP) (300) Single Test Cassette)
DMT-102 iCassette (Methadone (MTD) Single Test Cassette)
I-DOP-102 iCassette (Opiate (OPI) (2,000) Single Test Cassette)
I-DOX-102 iCassette (Oxycodone (OXY) Single Test Cassette)
I-DTH-102 iCassette (Marijuana (THC) Single Test Cassette)
iCasette Drug Screen – multipanel (includes test cassette and pipette)
I-DOA-1125 iCassette (2 Panel: COC, THC)
I-DOA-2125 iCassette (2 Panel: BAR, BZO)
I-DOA-1135 iCassette (3 Panel: COC, mAMP, THC)
I-DOA-1145 iCassette (4 Panel: COC, mAMP, OPI, THC)
I-DOA-1155 iCassette (5 Panel: AMP, COC, mAMP, OPI, THC)
I-DOA-2155 iCassette (5 Panel: AMP, COC, OPI, PCP, THC)
I-DOA-3155 iCassette (5 Panel: COC, mAMP, OPI, PCP, THC)
I-DOA-1165 iCassette (6 Panel: AMP, COC, mAMP, OPI, PCP, THC)
DOA-2165 iCassette (6 Panel: AMP, BZO, COC, mAMP, OPI, THC)
I-DOA-1185 iCassette (8 Panel: AMP, BAR, BZO, COC, mAMP, OPI, PCP, THC)
I-DOA-1195 iCassette (9 Panel: AMP, BAR, BZO, COC, mAMP, MTD, OPI, PCP, THC)
I-DOA-11105 iCassette (10 Panel: AMP, BAR, BZO, COC, mAMP, MTD, OPI, PCP, TCA, THC)
DOA-1105-021 iCassette (10 Panel: AMP, BAR, BZO, COC, mAMP, MDMA, MTD, OPI, PCP, THC)
DOA-1105-051 iCassette (10 Panel: AMP, BAR, BZO, COC, mAMP, MTD, OPI, OXY, PCP, THC)
DCB-1115-011 iCassette (11 Panel: AMP, BAR, BZO, COC, MDMA, OPI, OXY, PCP, PPX, TCA, THC)