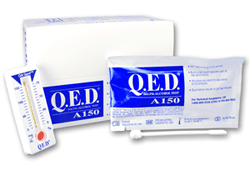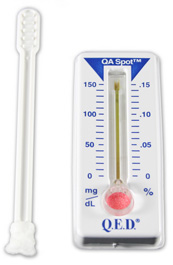 QED A150 Saliva Alcohol Test (10 Tests Per Box)
$75.00
Description
QED A150 Saliva Alcohol Test. On The Spot Leader in Alcohol Testing. On-Site Low-Cost Alternative to Breath or Blood Testing.
QED A150 Saliva Alcohol Test Features:
Fast and Simple Testing Process
Accurate & Quantitative Results
Built-in QA Spot
Low Cost
Department of Transportation Approved
FDA Cleared & CLIA Waived Saliva Alcohol Test
Fast and Simple Testing Process
Please see package insert for complete instructions.
Step 1: Swab mouth to collect saliva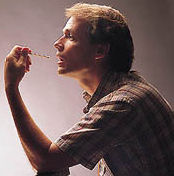 Actively swab around the cheeks, gums, and under the tongue for 30-60 seconds until the cotton swab is thoroughly saturated.
Step 2: Insert collector into test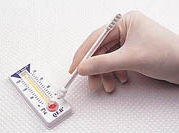 Place the Q.E.D.® test on a flat surface. Gently twist the collector into the entry port.
Step 3: Read color bar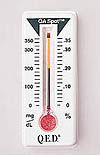 Allow two (2) minutes for the Q.E.D. test to develop. The QA Spot must be dark purple to indicate a valid test.
Sold in boxes of 10 tests 
Free Ground Shipping for orders over $75
For almost 20 years, we have been serving clients from all industries. We offer high quality products, competitive prices and superior customer service.