Description
T-Square 6 Panel Oral Fluid Saliva Drug Test – QODOA-166EUO-I
T-Square 6 Panel Oral Fluid Saliva Saliva Drug Test For:
QODOA-166EUO-I
AMP,COC,MET,OPI,OXY,THC
T-Square 6 Panel Saliva Drug Test
Features & Benefits:
Sold in Boxes of 25 Tests
Employment & Insurance Testing
No Restroom Required
Eliminates need for gender-specific observation
Observed Collection without privacy issues
Difficult to adulterate
Limits adulteration and tampering
Results in 10 minutes
Totally non-invasive
Sour taste is to help promote saliva production for faster testing
Smaller cube is made to improve testing sample size and time to complete test
How to use the T-Square Saliva Drug Test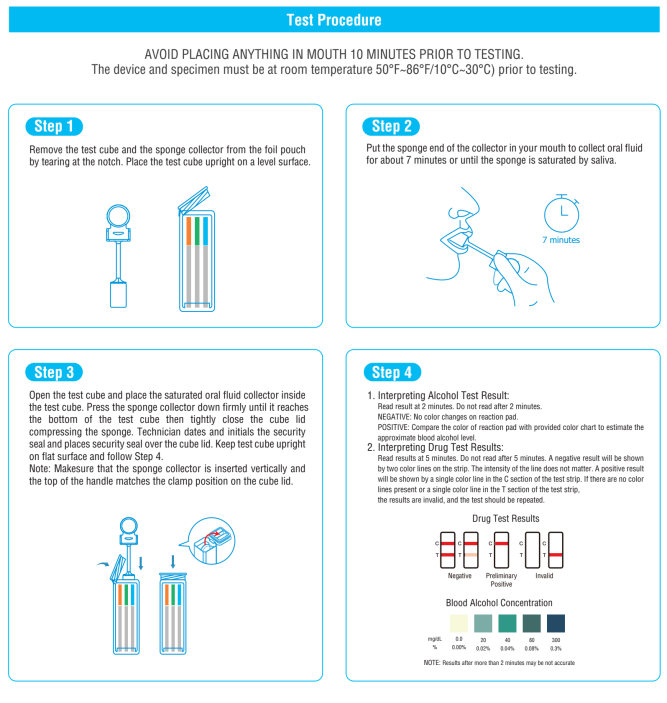 TEST PROCEDURE
Allow the kit and specimen to come to room temperature (65°F-86°F/18°C-30°C) prior to
testing. AVOID PLACING ANYTHING IN THE MOUTH 10 MINUTES PRIOR TO TESTING.
1. Remove the test cube and the sponge collector from the foil pouch by tearing at the
notch. Place the test cube upright on a level surface.
2. Put the sponge end of the collector in your mouth to collect oral fluid for about 7 minutes
or until the sponge is fully saturated by oral fluid. Do not chew, bite or suck the sponge. If
the amount of oral fluid does not make the sponge fully saturated within 7 minutes, repeat
the collection using one additional sponge collector provided, beginning with Step 1.
Note: In case of the dry mouth, do not swallow oral fluid during collection.
3. Open the test cube and place the fully saturated sponge collector inside the test cube.
Press the sponge collector down firmly until it reaches the bottom of the test cube, then
close the cube lid tightly while compressing the collector. Keep test cube upright on flat
surface and follow Step 4.
Note: Make sure the sponge collector is inserted vertically and the handle of collector is
put into the clamp.
4. Interpreting Drug Test Results:
Read results at 5 minutes. Do not read after 5 minutes
INTERPRETATION OF RESULTS
Negative (-)
A colored band is visible in the Control Region (C) and the appropriate Test Region (T). It
indicates that the concentration of the corresponding drug of that specific test zone is zero
or below the detection limit of the test.
Preliminary Positive (+)
A colored band is visible in the Control Region (C). No colored band appears in the
appropriate Test Region (T). It indicates a positive result for the corresponding drug of that
specific Test Region (T).
Invalid
If a colored band is not visible in the Control Region (C), the test is invalid. Another test
should be run to re-evaluate the specimen. If test still fails, please contact the distributor
with the lot number.
Note: There is no meaning attributed to line color intensity or width.
Product Information: