Description
Reviews (0)
Cut-Off Levels & Detection Times
Drug Test Procedure
Description
T-Cup 12 Panel Drug Test Compact | CDOA-6125A3
The T Cup 12 panel drug test detects the most commonly abused drugs.  This One-Step drug test cup is manufactured for accuracy and ease of use, while maintaining competitive industry pricing.  All T-Cup drug test cups include a silicone gasket or "O" ring in the cap to prevent leakage.
Drugs Tested:
AMP, BAR, BUP, BZO, COC, mAMP, MDMA, MOP, MTD, OXY, PCP,  THC + AD
Adulteration Test:
CR, SG, PH
T-Cup 12 Panel Features & Benefits:
Test for the top 12 drugs of abuse
Self Contained Low Cost Drug Test
CLIA Waived
FDA Approved
CE Marked for international use
Smaller, compact design makes it easy to store and handle
Easy to Use and Read
99% Accurate
Results in seconds.
Sold in boxes of 25 tests
Free Ground Shipping!
| Drug | Cut-off Level | Minimum detection time | Maximum detection time |
| --- | --- | --- | --- |
| Amphetamine (AMP) | 1000 ng/ml | 2 - 7 hours | 1 -2 days |
| Secobarbital (BAR) | 300 ng/ml | 2 - 4 hours | 1 - 4 days |
| Buprenorphine (BUP) | 10 ng/ml | 4 hours | 1 - 3 days |
| Oxazepam (BZO) | 300 ng/ml | 2 - 7 hours | 1 - 2 days |
| Cocaine (COC) | 300 ng/ml | 1 - 4 hours | 2 - 4 days |
| Methylenedioxymethamphetamine (MDMA) | 500 ng/ml | 2 - 7 hours | 2 - 4 days |
| Methamphetamine (MET/MAMP) | 1000 ng/ml | 2 - 7 hours | 2 - 4 days |
| Morphine (MOP) | 300 ng/ml | 2 hours | 2 - 3 days |
| Methadone (MTD) | 300 ng/ml | 3 - 8 hours | 1 - 3 days |
| Opiate (OPI) | 2000 ng/ml | 2 hours | 2 - 3 days |
| Oxycodone (OXY) | 100 ng/ml | 4 hours | 1 - 3 days |
| Phencyclidine (PCP) | 25 ng/ml | 4 - 6 hours | 7 - 14 days |
| Propoxyphene (PPX) | 300 ng/ml | 8 - 12 hours | 5 - 10 days |
| Notriptylne (TCA) | 1000 ng/ml | 8 - 12 hours | 2 - 7 days |
| Cannabinoids (THC) | 50 ng/ml | 2 hours | up to 5 + days |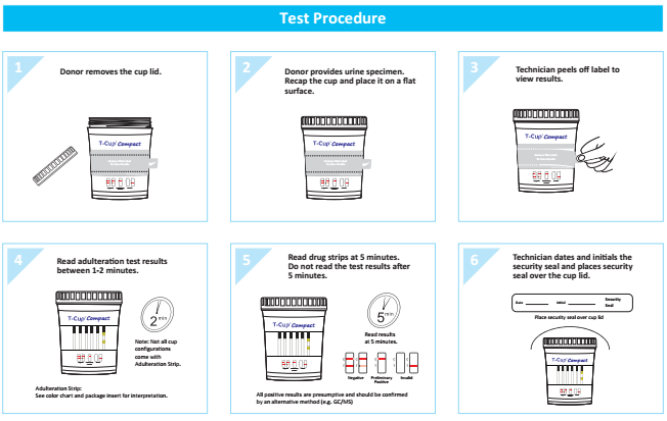 Please refer to the package insert for complete instructions