Healgen CLIA Waived Drug Test Cups
Healgen Drug Test Cup is the one of the most reliable and cost effective drug test we offer.  One step, fully integrated self contained drug screening cup.  All the administrator needs to do is peel the label and view the testing results! FDA Approved and CLIA Waived.  Sold in boxes of 25 tests.  Available in multiple panel configurations.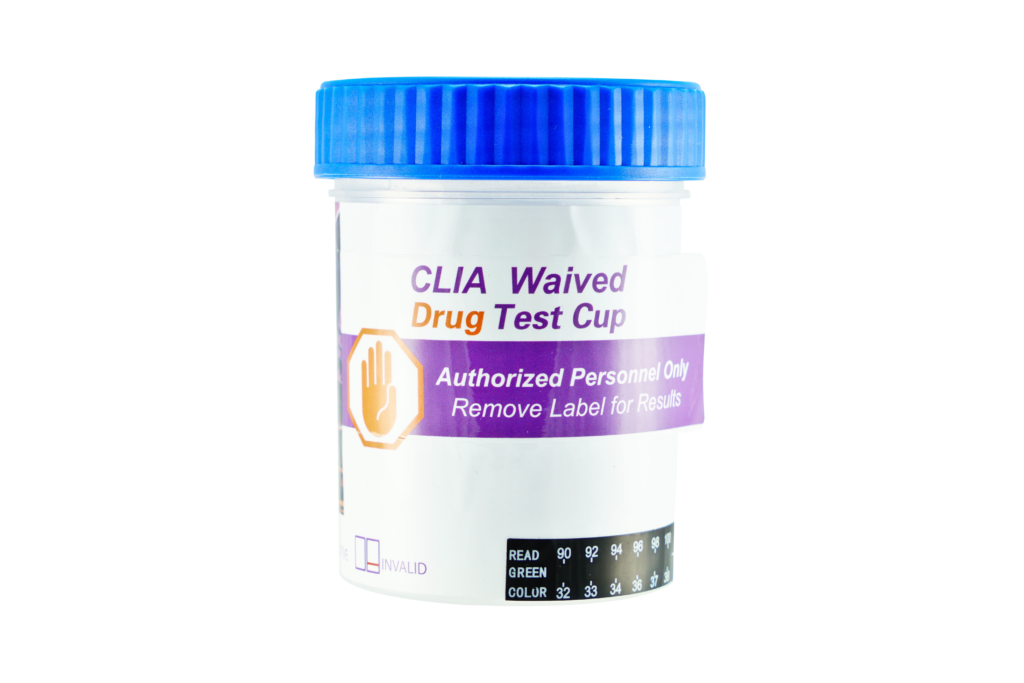 12 Panel Drug Test Configuration
HCDOAV-9125A3: AMP, BAR, BUP, BZO, COC, MET, MDMA, MOP, MTD, OXY, TCA, THC (OX, SG, PH)
HCDOAV-6125A3: AMP, BAR, BUP, BZO, COC, MET, MDMA, MOP, MTD, OXY, PCP, THC (OX, SG, PH
HCDOAV-5125A3: AMP, BAR, BZO, COC, MET, MDMA, MOP, MTD, OXY, PCP, TCA, THC (OX, SG, PH)
Features and Benefits
Simple, One-Step drug test cup
Results in 5 minutes or less
Long-lasting results stable for up to 1 hour
99% Accurate
Set to SAMSHA cut-off levels
FDA 510 (K) Cleared
CLIA Waived Drug Test
Sold in boxes of 25 tests
Free Ground Shipping  orders over $75.00
Drug Screen Procedure:
Donor provides urine specimen in cup.  If desired, cap can be held by the administrator to initiate the test at a later time.
One the urine sample has been collected, firmly screw the cap onto the cup.
Check urine temperature at 2-4 minutes by reading green color on temperature indicator strip.
Donor dates and initials security seal.  Administrator checks cap for tightness and attaches security seal label over cup (optional).
Remove peel-off label.
Read adulteration strip pads between 2 minutes, if applicable.
Read the test results at 5 minutes.  Refer to diagram for test result interpretation.
Positive test results must be confirmed by another test method.  Send cup and urine specimen with security seal label intact to a toxicology laboratory for confirmation.
Manufacture: Healgen Drug Test Cup