View cart
"6 Panel iCup Drug Test 25 per box I-DUA-167-022" has been added to your cart.
Description
Reviews (0)
Instructions
Cutoff Levels & Detection Time
Description
UScreen 7 Panel Urine Drug Test Kit
USSCup-7BO
Fast drug testing! No more waiting 5 minutes for results. With our UScreen Urine Drug Test Cup you will get negative results with a solid, dark line in 90 seconds or less! Our UScreen 7 Panel Urine Drug Test Kit Tests for 7 drugs of abuse. This test is CLIA Waived
Drugs Tested:
THC, COC, OPI, AMP, BUP, BZO, and OXY
UScreen 7 Panel Features & Benefits
Easy one-step operation
Zero exposure to donor specimen
Donor friendly cup opening
Built-in specimen validity test
CLIA Waived
Fast Dark Test lines
Most results within 60-90 seconds!
Non Negative results in 5 mins
Built in Adulteration Test
Remarkable Pricing & Quality
Performing the Test

1.  Have the donor provide a specimen in cup.
2.  Verify that temperature is within range on the temperature strip (90° – 100°F).
3.  To activate test, place the screw-top lid on the cup and turn until tight.
4.  Remove label.  For cups with specimen validity tests, compare specimen validity test pads with the color chart.  If pad colors are outside normal range, open a second test cup, collect a new specimen, and retest.
5.  Read the drug screen test results when control lines are clearly visible.
Interpreting the Results: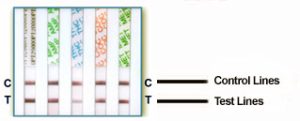 Negative
A negative result is indicated by the presence of both a "C" control line or and a "T" test line for each designated drug.
Negative
The presence of a "C" control line and a very light "T" test line indicates a negative result.  Any indication of a "T" test line is interpreted as a negative result.
Positive
A positive result is indicated by the presence of a "C" control line and the absence of a "T" test line.  Wait 5 minutes to read positive results.
Invalid
An invalid result is indicated when the "C" line is completely missing from one or more test windows. If this happens, run another test.
UScreen Product Information
Sold in boxes of 25 tests
Two-part drug test results forms included
Free Ground Shipping
For almost 20 years, we have been serving clients from all industries. We offer high quality products, competitive prices and superior customer service.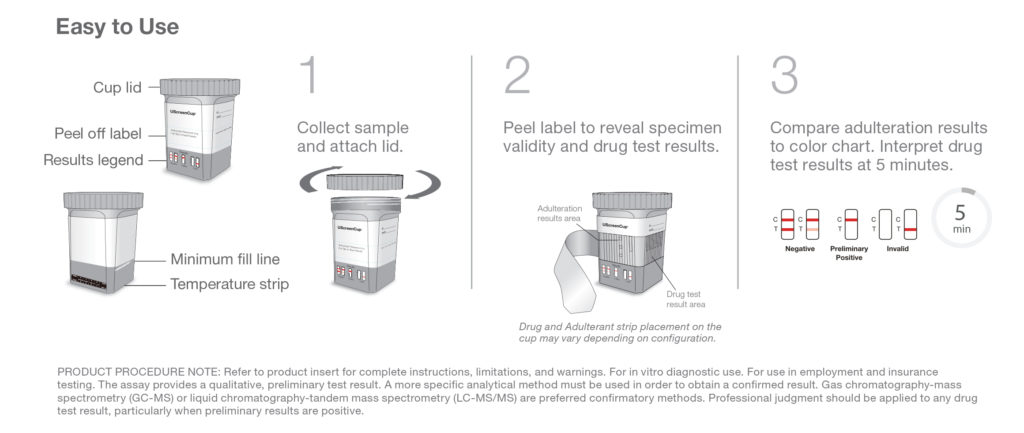 | Drug | Cut-Off Level | Minimum Detection Time | Maximum Detection Time |
| --- | --- | --- | --- |
| Marijuana (THC) | 50 ng/ml | 2 hours | Up to 5+ days |
| Cocaine (COC) | 300 ng/ml | 1 – 4 hours | 2 – 4 days |
| Amphetamine (AMP) | 1000 ng/ml | 2 – 7 hours | 2 – 4 days |
| Methamphetamine (MET) | 1000 ng/ml | 2 – 7 hours | 2 – 4 days |
| Morphine (MOP) | 300 ng/ml | 2 hours | 2 – 3 days |
| Morphine (2000) Opiates | 2000 ng/ml | 2 hours | 2 – 3 days |
| Methylenedioxymethamphetamie (MDMA) | 500 ng/ml | 2 – 4 hours | 2 – 4 days |
| Barbiturate (BAR) | 300 ng/ml | 2 – 4 hours | 1 – 3 weeks |
| Benzodiazepines (BZO) | 300 ng/ml | 2 – 7 hours | 1 – 4 days |
| Methadone (MTD) | 300 ng/ml | 3 – 8 hours | 1 – 3 days |
| Oxycodone (OXY) | 100 ng/ml | 1 – 3 hours | 1 – 2 days |
| Phencyclidine (PCP) | 25 ng/ml | 4 – 6 hours | 7 – 14 days |
| Tri-Cyclic Antidepressants (TCA) | 1000 ng/ml | 8 – 12 hours | 2 – 7 days |
| Buprenorphine (BUP) | 10 ng/ml | 4 hours | 1 – 3 days |