View cart
"9 Panel iCup Urine Drug Test 25 per box I-DUD-197-014" has been added to your cart.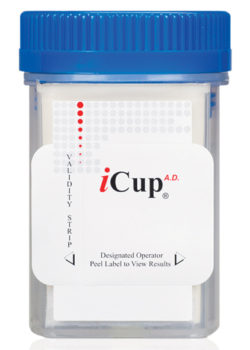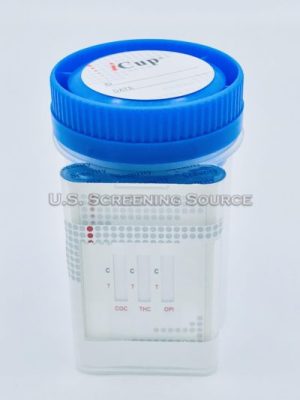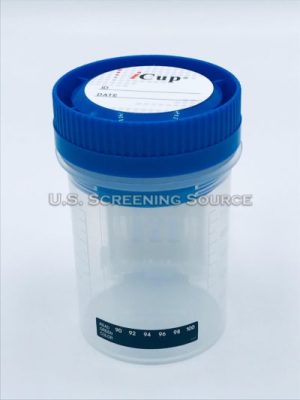 3 Panel iCup Drug Test 25 per box I-DOA-3137
$118.75
Description
Reviews (0)
Cutoff Levels & Detection Time
Instructions
Description
iCup 3 Panel Drug Test | I-DOA-3137
The iCup 3 panel drug test kit without adulteration tests. This 3 panel drug test is a self contained drug test kit that does all the testing for you. The  3 panel drug screen begins to test the specimen immediately.
3 Panel Drug Test For:
COC, THC, AND OPI
iCup 3 Features and Benefits
Faster, darker lines that make reading the test results easier
Smaller, compact design makes it easy to store and handle
Easy to use and read
Donor and collector friendly
99% Accurate
Results in seconds. Drug test lines start appearing within seconds
Laboratory accurate, set to SAMSHA cut-off levels
Sold in boxes of 25 tests
Includes a two-part drug test results form
Free Ground Shipping!
iCup 3 Panel Drug Screen Procedure:
Donor provides specimen and replaces lid.
Temperature is read between 2 – 4 minutes to verify range between 90 – 100 degrees F
Check cup for tight seal. Donor dates and initials the security seal and places security seal over cap.
Technician peels off label to reveal drug test strips.
Read adulteration test results between 2 – 5 minutes. If applicable.
Read drug test results at 5 minutes
Photocopy of the results can be made by placing the entire cup with the card face down on the copier
iCup 3 Panel Drug Screen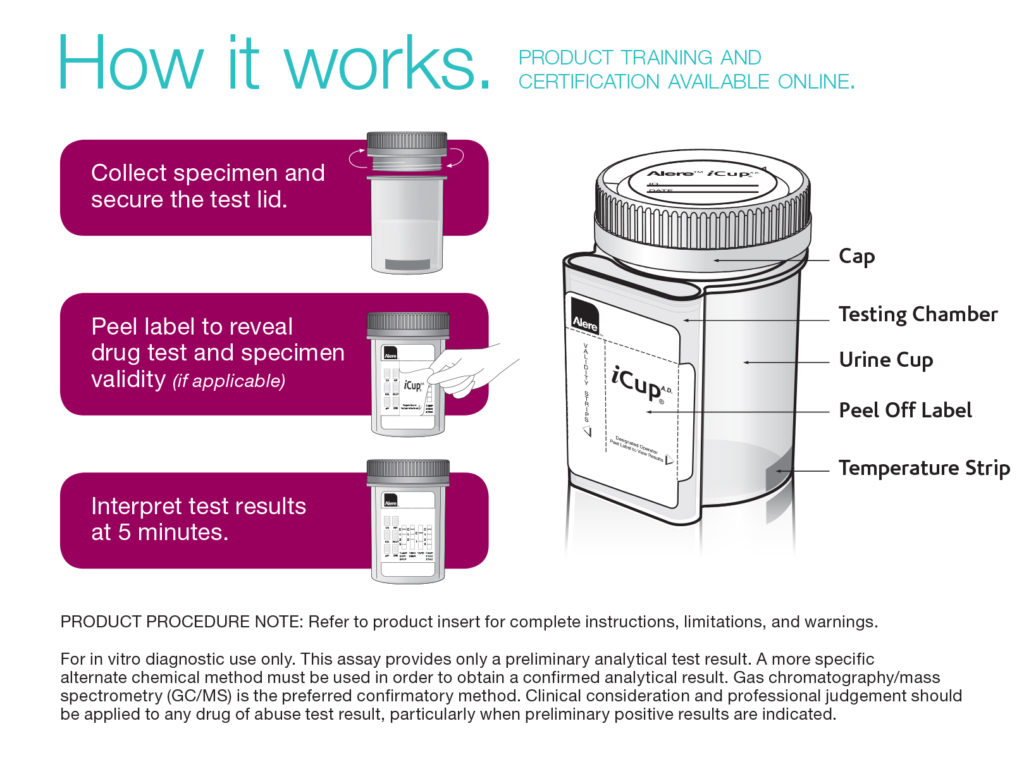 Product Information
Drug Detection Times & Cutoff Levels
Sold in boxes of 25 tests
Two-part drug test results forms included
Free Ground Shipping
For almost 20 years, we have been serving clients from all industries. We offer high quality products, competitive prices and superior customer service.
iCup 3 Panel Drug Test For:
COC, THC, AND OPI
| Drug | Cut-Off Level | Detection Time |
| --- | --- | --- |
| Amphetamine (AMP) | 1,000 ng/ml | 2 – 4 Days |
| Barbiturates (BAR) | 300 ng/ml | 4 – 7 Days |
| Benzodiazepines (BZO) | 300 ng/ml | 3 – 7 Days |
| Cocaine (COC) | 300 ng/ml | 2 – 4 Days |
| Ecstasy (MDMA) | 500 ng/ml | 1 – 3 Days |
| Methadone (MTD) | 300ng/ml | 3 – 5 Days |
| Methamphetamine (MET) | 1,000 ng/ml | 3 – 5 Days |
| Opiates (MOR) | 300 ng/ml | 2 – 4 Days |
| Opiates (OPI) | 2,000 ng/ml | 2 – 4 Days |
| Phencyclidine (PCP) | 25 ng/ml | 7 – 14 Days |
| Marijuana (THC) | 50 ng/ml | 15 – 30 days |
| Tri-Cyclic Antidepressants (TCA) | 1,000 ng/ml | 7 – 10 Days |
| Propxyphene (PPX) | 300 ng/ml | 1 – 2 Days |
| Oxycodone (OXY) | 100 ng/ml | 2 – 4 Days |
| Amphetamine (AMP300) | 300ng/ml | 2 – 4 Days |
| Cocaine (COC150) | 150 ng/ml | 2 – 4 Days |
| Methamphetamine (MET500) | 500 ng/ml | 3 – 5 Days |