Oratect AOT-06 FDA Approved 6 Panel Saliva Drug Test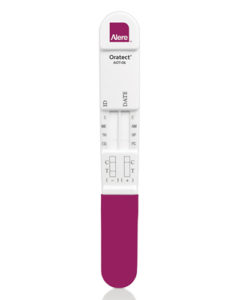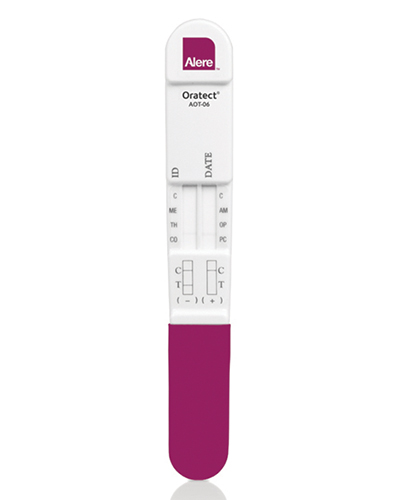 Alere Oratect® AOT-06 FDA Approved Saliva Drug Test
The only FDA 510K CLEARED On-site Saliva drug test. Free UPS ground shipping in the continental U.S. on saliva drug test kit orders over $50.00. Easy online ordering or order by phone by calling our toll free number 1-866-323-7336.
The Alere Oratect® AOT-06 Saliva Drug Test is a simple one-step test for the detection of drugs of abuse in Saliva.
The

Oratect Saliva Drug Test Kits are:
Two test strip configurations of 6 drugs
Rapidly screen up to 6 illicit drugs and prescription drugs
Simple procedure: collect and test in one step—results in five minutes
Convenient and non-invasive rapid screening
Avoids cross gender observation
Reduces sample adulteration or contamination
Includes transport tube for confirmation testing
Made in the USA
| | |
| --- | --- |
| Drugs of Abuse |  Cutoff |
| Methemphetamines (ME) | 50 ng/mL |
| Marijuana (TH) | 40 ng/mL |
| Cocaine (CO) | 20 ng/mL |
| Amphetamines (AM) | 50 ng/mL |
| Opiates (OP) | 40 ng/mL |
| Phencyclidine (PC) | 10 ng/mL |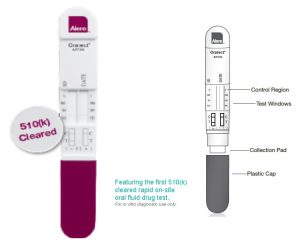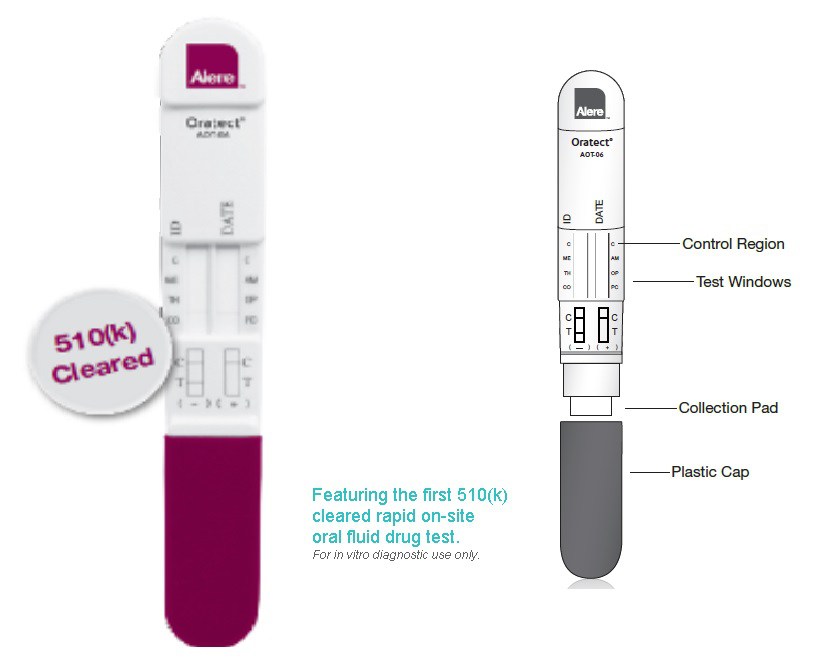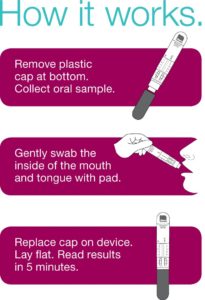 PRODUCT PROCEDURE NOTE: For complete instructions, limitations and warnings, please refer to the reference guide and package insert before using this screening device. The Alere Oratect® Saliva Drug Test is a one-step lateral flow immunoassay device. The test is a prescription assay. This product is forin vitro diagnostic use and it can be used at the Point-of-Care site. The Alere Oratect® Saliva Drug Test provides only preliminary drug test results. For a quantitative result or for a confirmation
of a presumptive positive result obtained by the Alere Oratect® Saliva Drug Test, a more specific alternative method must be used. GC/MS or LC/MS/MS is the preferred confirmatory method. The samples for confirmatory testing should be collected with the oral fluid confirmation tube provided.
Saliva Drug Test and Testing with Oral Fluids / Mouth Swab Drug Tests
Saliva drug testing or oral fluids dug testing using mouth swabs or onsite instant saliva drug tests has become an easier less invasive way of drug testing that can be done anytime or anywhere with no restroom required.  Saliva drug testing is becoming a very popular type of drug tests  for employers. Saliva Drug Testing is easy for all types of employee drug testing:
Pre-Employment drug testing:  New applicant drug testing is quick and easy with saliva drug tests.
Random Drug Testing: Random testing for current employees. No restroom required
Reasonible Suspicion or for Cause Drug Testing: Saliva test can be done any where at any time with the cost effect FDA approved saliva drug test Oratect AOT-06 6 panel saliva drug test.
There is only one saliva drug test on the market today that is FDA 510K approved for workplace saliva drug testing. The Oratect AOT-06 six (6) panel saliva drug test is easy to administer and a low cost solution to your saliva drug testing need.
The Oratect AOT-06 tests for 6 drug of abuse :  THC40, MET50, COC20, AMP50, OPI40, PCP10
US Screening Source provides the only FDA approved (510k cleared) saliva drug test on the market.  The Alere Oratect AOT-06 6 panel saliva drug test. See below for information about Forensic Use only devices.
Forensic Use Only devices are intended for use only in drugs of abuse testing for law enforcement purposes. Appropriate users of such devices include, for example, court systems,
police departments, probation/parole offices, juvenile detention centers, prisons, jails, correction centers and other similar law enforcement entities, or laboratories or other establishments
performing forensic testing for these entities. Forensic Use Only devices are not designed, tested, developed, or labeled for use in other settings, such as clinical diagnostic or
workplace settings.
Sold in Boxes of 25 tests
Includes Drug Tests Results Forms
Free UPS Ground Shipping
Made in the USA
Free Online Drug Testing Training