View cart
"iCup Ten 10 Panel Urine Drug Test Cup I-DUE-1107-141" has been added to your cart.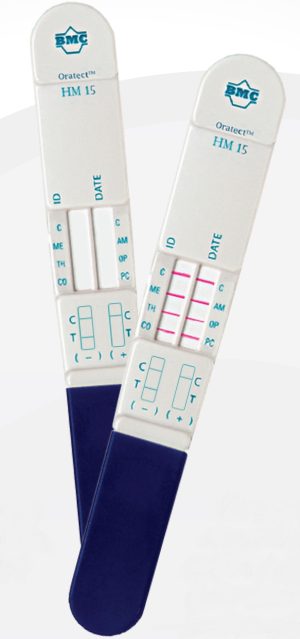 Oratect HM-15 Saliva Drug Test – 6 Panel Oral Mouth Swab – (25 Per Box)
$273.75
Description
The Oratect Hm-15 was the first onsite saliva drug test to be FDA cleared. This mouth swab drug test offers rapid collection and testing. Drug test results in 5 minutes.
This product has been discontinued by the manufacturer. We recommend you check out the products below:
T-Cube Saliva Drug Test
Click Here for more information
T-Swab Saliva Drug Test 
Oratect HM-15 Mouth Swab Drug Test Features:
FDA (510k) Approved Saliva Drug Test
Two test strip configurations of 6 drugs
Rapid collection and testing in one step
Results in 5 minutes
User-friendly and non-invasive
Reduces sample adulteration or contamination
Includes transport tube for confirmation testing
Made in the USA
Sold in boxes of 25 tests
Two-part drug test results forms included.
Free Ground Shipping
HM-15 Mouth Swab Drug Test Includes test for 6 drugs:
AMP, COC, THC, mAMP, OPI, PCP

How to use the Oratect HM-15 Saliva Drug Test – Mouth Swab Drug Test
Step 1. Remove the test device from the sealed pouch. Carefully remove the blue cap to expose the collection pad. Ensure that the blue lines are present in each test window. Hold the top portion of the device – above the test window area. Do not touch the test window area.
Step 2. Subject should keep head level. Open mouth and rub the collection pad inside mouth against one cheek in a circular motion approximately 15 – 20 times.  Then do the same on the opposite cheek. Rub the pad on top of the tongue several times then underneath the tongue. DO NOT CHEW, BITE OR SUCK THE COLLECTION PAD. Collection time is approximately 3 minutes.
Step 3. Remove device from the mouth when both windows begin to turn pink. (If no flow is observed after 5 minutes in the mouth, discard the device and repeat with a new device). Recap device, lay on flat surface. Do not read after 30 minutes. Negative results can be interpreted as soon as all test lines are visible. Wait 5 minutes to determine a positive result.
Please refer to complete instruction on the package insert and procedure card.
Reading the Results
Read the results when all upper "Control" or "C" lines have appeared. Negative results can be read as soon as all "Test" or "T" lines are visible. (Wait 5 minutes to determine a positive result).

Oratect Saliva Drug Test Cutoff Levels & Detection Times
| Drug | Cutoff Level | Detection Time |
| --- | --- | --- |
| Amphetamine (AMP) | 50 ng/ml | 1 - 3 Days |
| Cocaine (COC) | 20 ng/ml | 1 - 3 Days |
| Methamphetamine (MET) | 50 ng/ml | 1 - 3 Days |
| Opiates (OPI) | 40 ng/ml | 1 - 3 Days |
| Phencyclidine (PCP) | 10 ng/ml | 1 - 3 Days |
| Marijuana (THC) | 40 ng/ml | 6 - 12 Hours |
* Detection times are not guaranteed

The assay provides a qualitative, preliminary test result. A more specific analytical method must be used in order to obtain a confirmed result. Gas Chromatography/Mass Spectrometry (GC/MS) or Liquid Chromatography/Tandem Mass Spectrometry (LC/MS-MS) are preferred confirmatory methods. Professional judgment should be applied to any drug test result, particularly when preliminary results are positive.