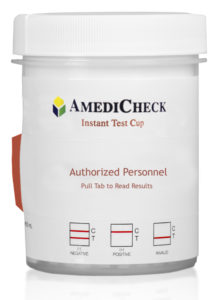 AmediCheck 5 Panel Drug Test Cup w/Adulteration C-C0501A-3A (CLIA WAIVED) (25 Tests)
$137.50
Description
Cuttoff Levels
Drug Test Procedure
Description
AmediCheck 5 Panel Drug Test Cup w/Adulteration C-C0501A-3A
The AmediCheck 5 panel drug test cup is a CLIA Waived urine drug test. This drug test cup is made in the USA. Easy to use self contained drug test, no dipping, tilting, or key required to activate the drug test.
AmediCheck 5 Panel Drug Test Detects 5 Different Drugs:
AMP, COC, OPI, PCP, and THC
Built-In Adulteration Test For:
PH, OX, and SG
Features and Benefits
Fast, dark test lines
Results in minutes
Donor-friendly
Adulteration tests available
Remarkable pricing and quality
FDA cleared
CLIA Waived
Made in the USA
Sold in boxes of 25 tests
Two-part drug test results forms included
Free Ground Shipping
For almost 20 years, we have been serving clients from all industries. We offer high quality products, competitive prices and superior customer service.
    AmediCheck Urine Drug Test Cutoff Levels
Drug (Analyte)
Cutoff Level

 

THC (Marijuana)
50 ng/mL

Cocaine (COC)
300 ng/mL

Amphetamine (AMP)
1000 ng/mL

Methamphetamine (MET)
1000 ng/mL

Opiates (OPI)
2000 ng/mL

Opiates300 (OPI300)
300 ng/mL

Phencyclidine (PCP)
25  ng/mL

Barbiturates (BAR)
300 ng/mL

Benzodiazepines (BZO)
300 ng/mL

Methadone (MTD)
300 ng/mL

Oxycodone (OXY)
100 ng/mL

Methylenedioxymethamphetamone (MDMA)
500  ng/mL

Tricyclic Antidepressants (TCA)

1000 ng/mL
Performing the AmediCheck™ Instant Test Cup Procedure
The AmediCheck™ Instant Test Cup is designed to use with urine specimens. Fresh urine does not require any special handling. Test cup and urine samples, should be fresh or at room temperature prior to testing. Do not open foil pouch until ready to perform the assay.
Collection Procedure:
1. Remove all kit contents from box.
2. Read the Complete Test Instructions and Handbook.
3. Remove the AmediCheck™ Instant Test Cup from the sealed foil pouch. Give Test Cup (with affixed Temperature Strip) to donor.
4. Be careful to remove anything from the bathroom that could be added to the specimen. Things that may interfere with the test include: soap, bleach, vinegar, salt, or tap/toilet water. If this is a test on your child, you may want to be in the bathroom with your child to prevent any tampering with the sample.
5. Allow donor to provide 30 mL of urine (about 1/3 full).
6. Read specimen temperature using the strip affixed on the side of container within 4 to 5 minutes. A green color dot on the strip indicates the specimen temperature. The temperature of newly collected human urine specimen should read between 90-100o F. If no reading is present, temperature is out of range and sample should be discarded. A new sample should be collected with a new kit.
Reading the Results:
Negative results may be read as soon as 2 pink lines appear. For positive results, read result within 4 to 5 minutes after providing urine sample. Do not read result after 5 minutes. If the test is left standing more than 5 minutes, the intensity of the colored lines may change.
Negative – Presence of 2 rose pink lines (any intensity). One line is present in the control region and another line is present in the test region for each drug. A FAINT line indicates a negative result.
Presumptive Positive (send to Lab) – Presence of a 1 line in the control region and NO LINE is present in the test region. Read at 5 minutes. This is a preliminary result. More than one test may be a presumptive positive.
Invalid – No control line is present. The control line should always be present whether or not the test result is positive or negative. If the control line is not present after the test, the result is invalid.
Do not use the invalid test result. Use another device to retest. If problem persist, contact customer service.